Code named 'Kaboom'.
The fact is, not many people read Terms & Conditions and even fewer understand them – which can have serious repercussions when applying for a credit card. Code-named Kaboom, this designled project aimed to 'blow up' the traditional Terms & Conditions framework and increase financial literacy for every customer in Australia.
NAB credit cards came with Terms & Conditions so unintelligible they prompted over 70% of customer complaints. Even front-line bank staff weren't confident in the concrete definition of T&Cs. Customers generally believed T&Cs were obtuse – possibly intentionally so – and largely existed to protect the bank.
Project Kaboom was championed by NAB CEO Ross McEwan, with a view to reimagine T&Cs and fortify the bank's commitment to a new era of customer experience. A collaboration between internal and external teams leveraged insights to transform Terms & Conditions from end to end.
Using all available data, analytics and research, we identified clear problems and opportunities to design a new kind of customer-centric 'User Guide' for credit card services. With the stretch goal of being so easy to understand and dynamic, it would be as valuable in the first hour as it would many years down the line.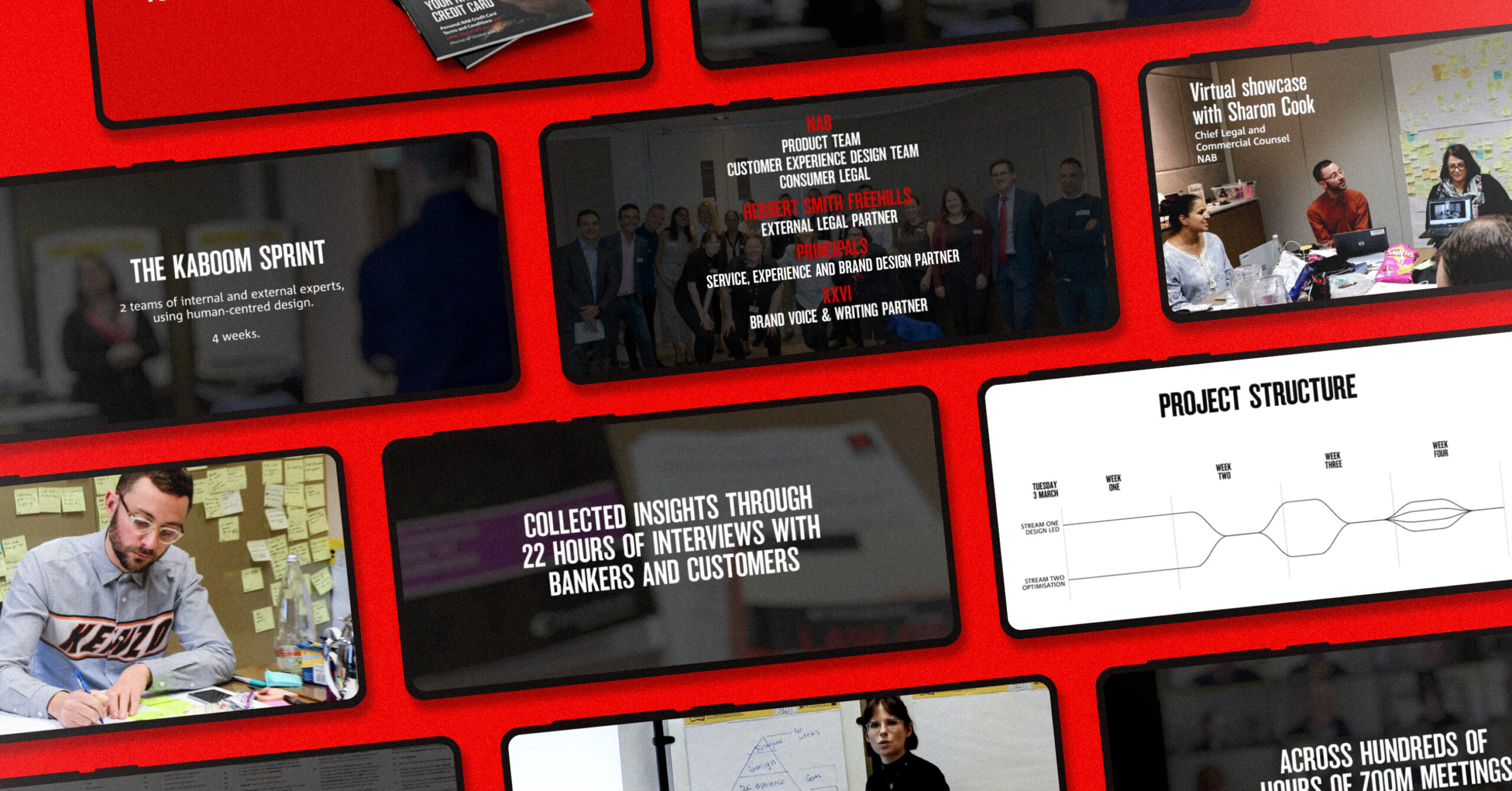 To create the insights needed for a project of this scale, we orchestrated a team consisting of leadership, legal and product stakeholders working side-by-side with designers, writers, CX leads and development teams, as well as external lawyers, customers, and front-line staff.
We managed a live, collaborative 'Risk Register' document to accelerate the evaluation and decisionmaking so integral to a modern contract. This enabled us to deconstruct and recreate the experience to be genuinely equitable for customers, providing progressive and contextually relevant education that did justice to NAB's purpose "To serve customers well and help communities prosper' and their values of 'Passion for customers; win together; be bold; respect for people;' and perhaps most significantly: 'Do the right thing.'
In plain English, each paragraph covered key concepts, the customer benefit, their responsibility (and the banks) and finally, any implications. We named the contract, "Our Agreement with each other".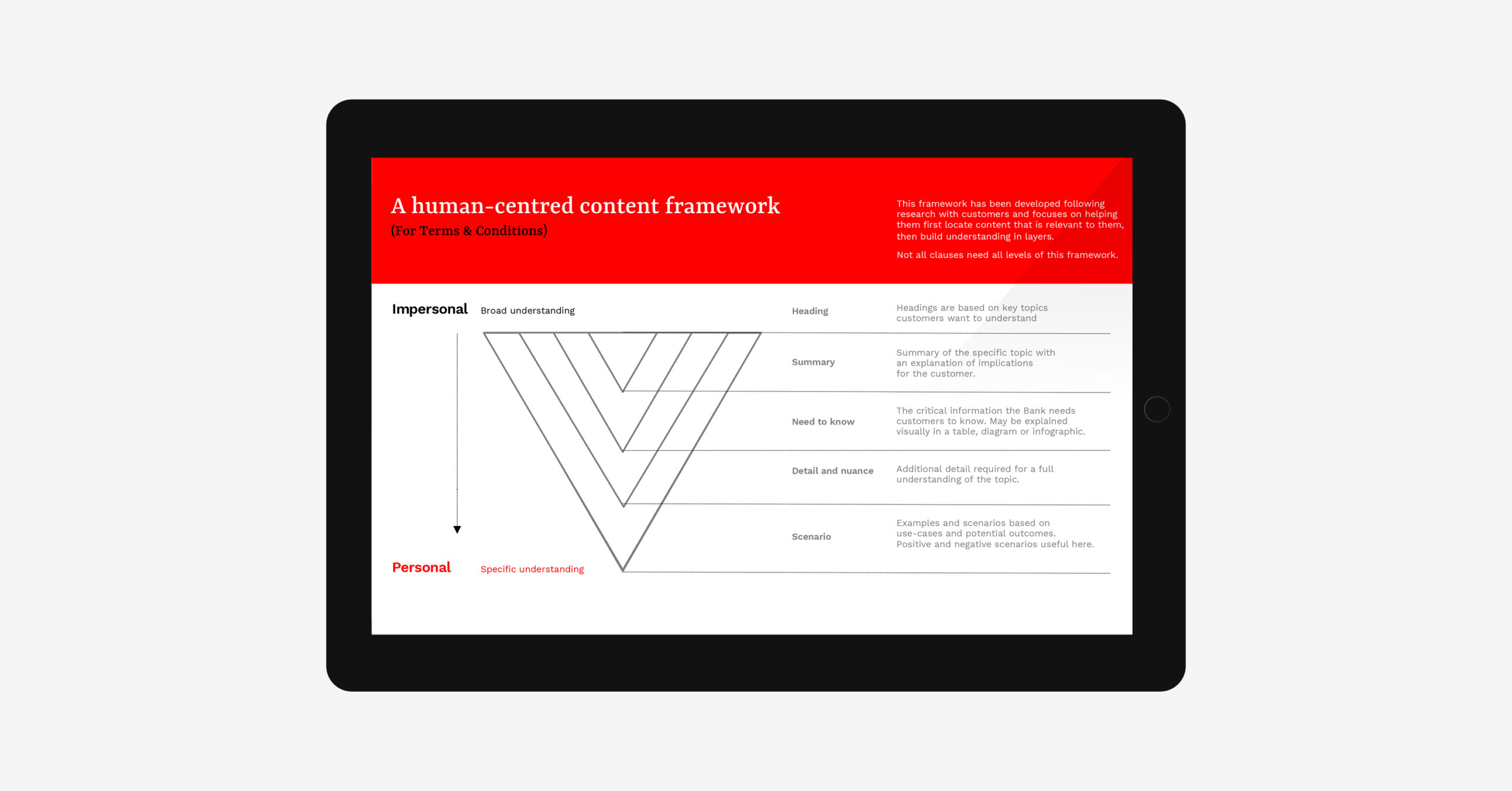 We explored dozens of delivery mechanisms for the new content, from sketching paper packs, creating prototype digital pages and animations and even considering a video series. This rapid prototyping let us test new structures, content and design concepts, building a clear evidence-base to move the project forward.
Every aspect of the experience, from the flow of information to the language and TOV considerations, was crafted specifically to feel as if customers were sat next to someone explaining the fine print – improving financial literacy as much or as little as they needed.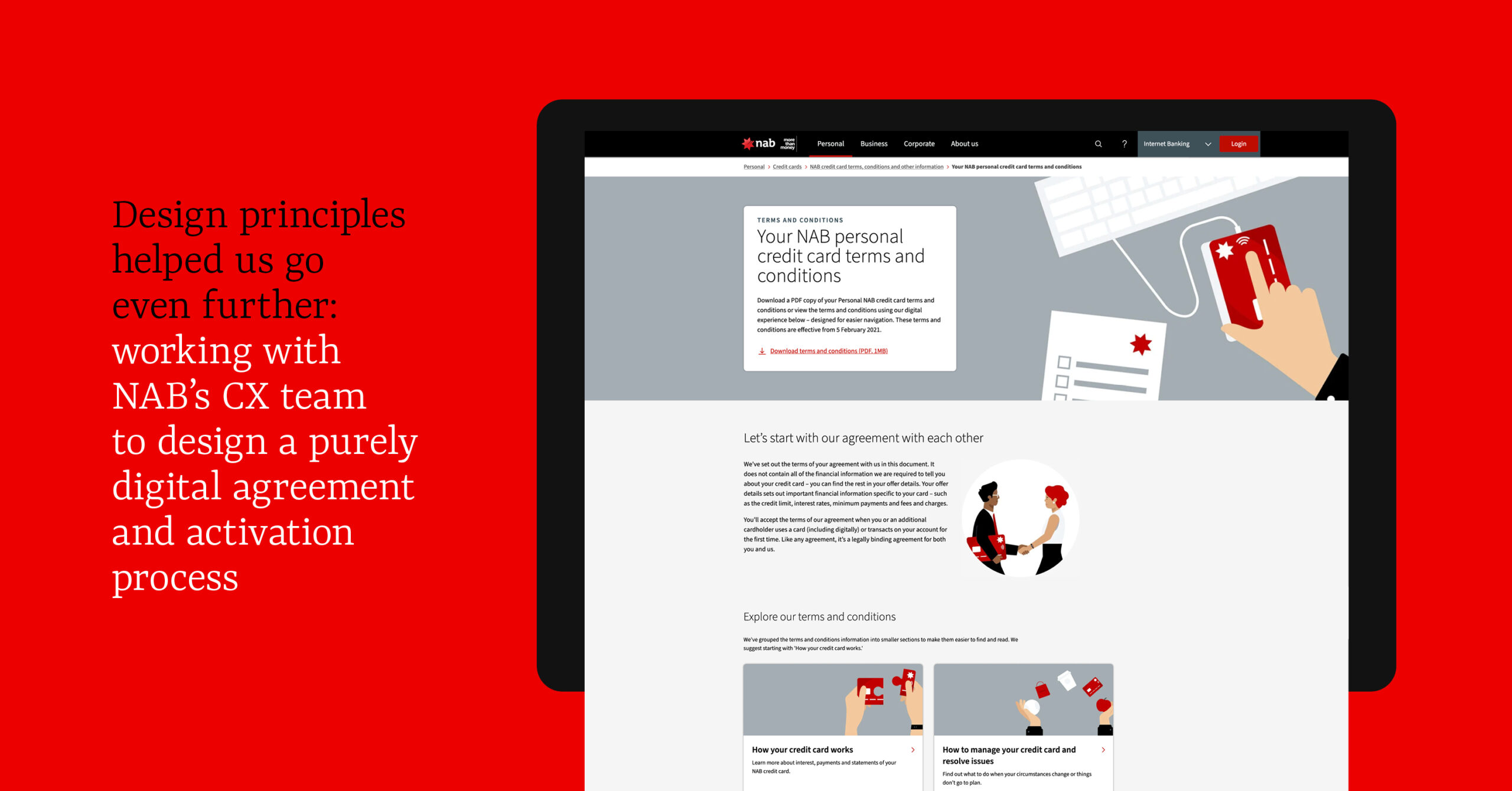 User testing revealed surges in comprehension, usability and brand perception, with overwhelmingly positive testimonials like: 'It makes me feel like I'd want to bank with you, it shows that you care and not just trying to take my money…" and "…they don't over-explain stuff…".
While the original intent was to design a physical document, the insights inspired the team to apply for an exception from ASIC for a new kind of end-to-end digital credit card experience – which, in an Australian first, was granted.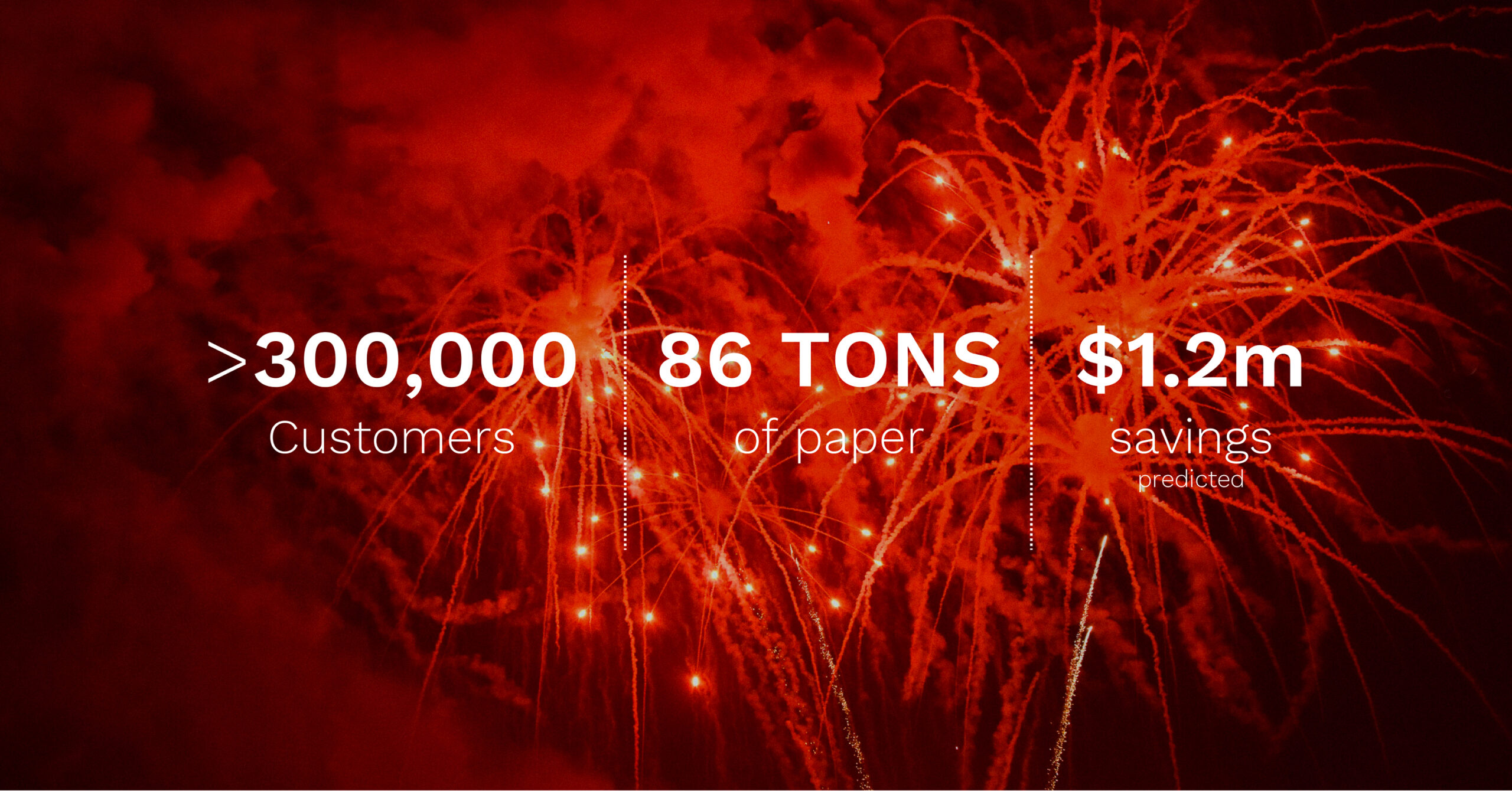 The design-led change transformed the experience for over 300,000 credit card customers. By incorporating human-centred design and reimagining the line of communication, we created a blueprint and a benchmark – not just for credit card documentation, but for all manner of contracts and fine print agreements.
With ASIC's approval for a new digital credit card experience, we used the architecture we designed to transfer the progressive disclosure of information to the screen. This meant we could offer increased financial literacy to customers at scale, uplifting the overall experience, positively changing behaviour and delivering a more mutually beneficial relationship between customer and bank.
"I've read my terms and conditions" may be the biggest lie told in business. Our framework design improved financial literacy for both customers and banking staff, giving them a better comprehension of terms and processes and increasing their trust in the bank and its services. This translated into fewer late fees and customer complaints, with the System Usability Scale (SUS) score jumping to 4.5/5. Digital T&Cs boasted an impressively high open rate of over 80%.
In just the first year, NAB saved an estimated 86 tonnes of paper – and $1.2m in operating costs.
–
Good Design Australia Gold Award 2022:
NAB Kaboom Service Design