A writer, a designer, a suit and a strategist walk out of an advertising agency. It should be the start of an industry joke. Instead, it led to the birth of Principals. 25 years later, founder Wayde Bull reflects on the development of the agency, and where it's going next.
Jack Vaughan, David Barnes, Johan du Toit and myself were those initial four. Our founding idea was to give marketers access to senior creative talent on-demand, to solve big brand challenges, outside of the ad agency factory model that dominated back in 1995.  We wanted to be a deeply experienced, project based, problem solving creative agency, always open-minded about the form that our solutions took.
Coles Myer were our very first client.  We received a phone call from their liquor division on the same day a story about Principals ran in the Sydney Morning Herald.  Our first brief was helping their Liquorland brand to build an in-store food and wine matching system. From the very first project, design was as integral part of Principals' thinking.
Other clients who put their trust in us in those very early days included Toyota, Lion Nathan, Murdoch Magazines and Telstra. We're indebted to those early believers who saw something promising in us.
Our promise to clients has always been about giving them direct access to our best people – the team that the clients meet up-front are the ones that'll work on the project, until the job is done.  In fact, we named the business Principals to make it clear that the owners and management were 'sleeves rolled up' working on the clients' business. Under the continued leadership of CEO Tom Brigstocke, it's something we remain just as committed to today.
The differentiator for Principals has always been the way we dig deep into the culture of our clients' organisations and engage their people in defining the optimal future meaning of their brands. Our commitment to deep-thinking has allowed us to build one of the largest strategy teams of any creative agency in Australasia. Now led on the ground by Tim Riches, that deep planning culture enables us to develop communications that are always informed by a tight strategy – our creatives don't start work until there's a clear and agreed brand idea to rally around.
Originally, this commitment to design-led creativity was triggered by the arrival of Sandy Belford and Tessa Shaw as directors in 2001.  We'd collaborated successfully on a big and complex Telstra brand identity and architecture project, with Principals leading on brand strategy and Sandy and Tessa's team leading on brand design. From 2001 forward, it was the combination of brand strategy and design that drove our rapid growth and allowed us to hire one of the UK's most talented creative directors Simon Wright, who continues to lead our creative troops today.
The next big evolution in our offer came about through collaboration too. For some time we'd been partnering a unique brand voice agency called XXVI.  Led by Scott Lawrie and then Hamish Cargill, the team at XXVI had a rare talent for putting structure and discipline around brand voice, in the same way that a design agency carefully codifies a brand's identity. We'd found another like-minded group of partners and so brought the XXVI business into the Principals fold in 2010.
Our expansion into New Zealand was a natural step. We'd been working for many years with organisations on both sides of the Tasman, so when Tessa Shaw offered to be a pioneer for the office in Auckland in 2012 we saw an opportunity to properly establish ourselves in the market. Tessa did a fabulous job of transplanting the established Principals culture while localising the offer, in the process building a team that's gained recognition for their creativity and strategic nous. Today, Steve Main and Nick Sampson continue to spearhead our charge in New Zealand as our triangle of offices across Auckland, Melbourne and Sydney work more closely than ever before.
In recent years we've added further streams of brand expertise. Claire Gallagher leads our internal branding team, helping leaders to activate brand thinking inside their organisations, and Mary Winter leads our brand insights team, bringing a deep end-customer understanding to our projects. Dan Bradley heads up our newest venture Alpha Lab, a human-centred design and technology practice that's helping our clients create memorable new customer experiences in the digital age, informed as always by a big brand idea.
It's the diversity of branding projects we've done over the years that really makes me proud. Car show concepts, airline liveries, wayfinding systems, football team jerseys, helping NZ's community leaders to craft their national story, building the James Squire beer brand from a blank sheet and seeing our APEC brand identity minted on a one dollar coin.
We're grateful to have been entrusted by many famous Australasian brands to refresh their identity and voice like NAB, AGL, Australia Post, 10, T&G, Chorus, Beyond Blue and the Australian Red Cross.  And we've been delighted to have lent a hand to dozens of not-for-profit organisations through our Good Idea Foundation.
At the time of Principals' founding in the mid-90's, you could still buy your way to brand leadership.  The most powerful brands were those that dominated mainstream distribution channels and blitzed the airwaves.  While scale advantage still matters, I love the idea that upstart brands today with better ideas, more agile cultures, more committed teams and with the savvy use of digital and social channels have every chance of toppling tired incumbents.
In markets choked with choice, it's the brands that do, say or believe in something different that really stand out.  It's always fun to work with upstarts, but it's equally exciting to work with incumbent brands who now need to compete in the new marketplace of ideas, beliefs, direct to customer platforms and 'doing over claiming'.
As an agency, we're committed to keep experimenting with new service offers that help our clients' to better understand their customers, to build deeper meaning and personality into their brands and to help their organisations to connect ever more directly with their end-users. We're great believers in the adage 'a brand is what a brand does'.  There's never been a better time to be 'sleeves rolled up' helping our clients to think, look and act different.
Here's to 25 years of wonderful clients and a uniquely talented team.
Check our our top 25 lists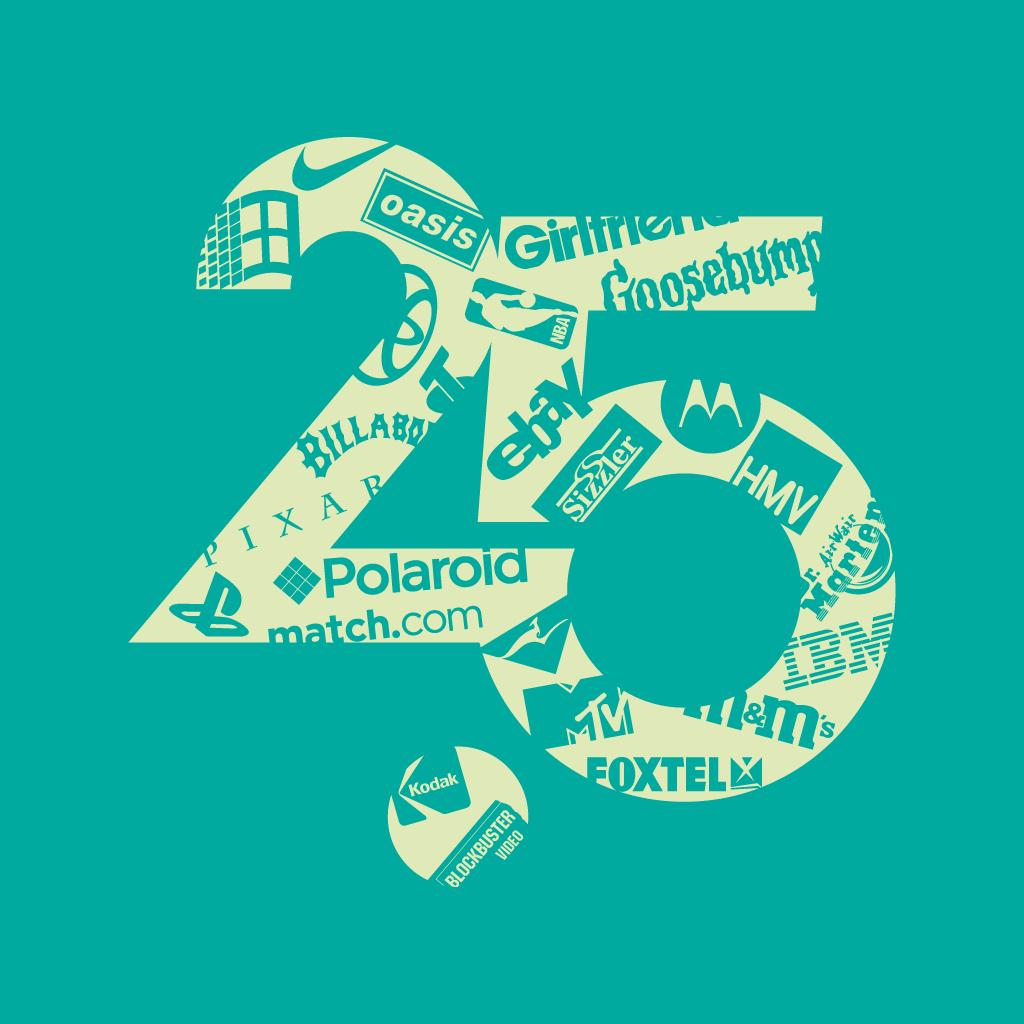 25 Iconic Brands from 1995
Revisit some of the most iconic brands from the mid-90s.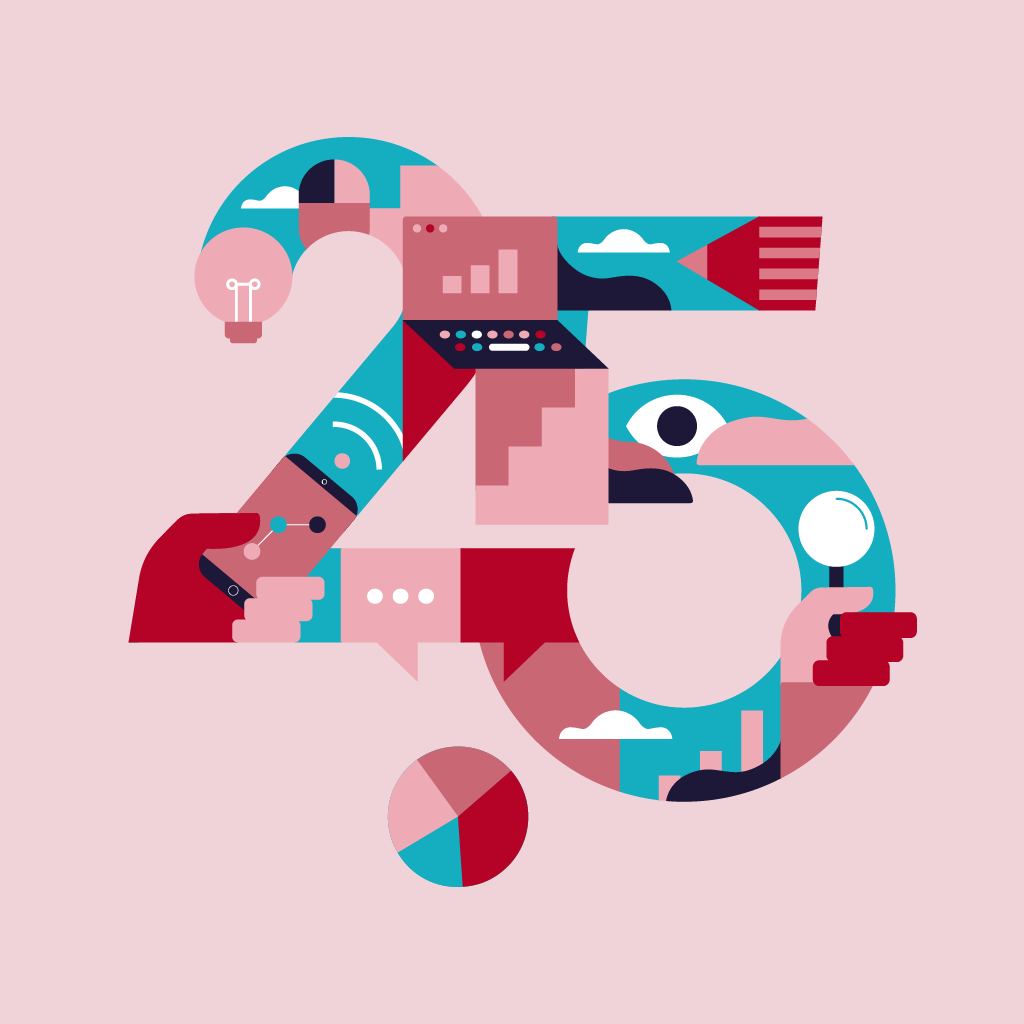 25 Exciting Brands for 2021
Our team have voted on 25 brands to watch this year.